DISCOVER SELDOVIA'S BEST KEPT SECRET - COMING SPRING 2020 TREEHOUSE COVE LODGE!
"What an amazing place! Quiet, cozy, peaceful, stunningly beautiful, with constantly changing vistas that varies with the tides, light, and the magnificent mist that flows in and around the mountains" Steven and Melissa, Minnesota
Surround yourself in peaceful seclusion in a cathedral like wilderness setting, at this exclusive remote waterfront lodge just a few minutes up the bay from Seldovia Harbor! This full service lodge is perfect for a couple or up to four good friends and family. It features a spacious loft, a bathroom with hot and cold running water, a wood-burning stove, propane heat, a private beach, and a covered deck with stunning waterfront views. All inclusive with great home style cooking, daily guided tours and adventures, all included in the experience. This lodge is a true wilderness lodge, yet minutes from the quaint fishing village of Seldovia, Truly, Alaska's best kept secret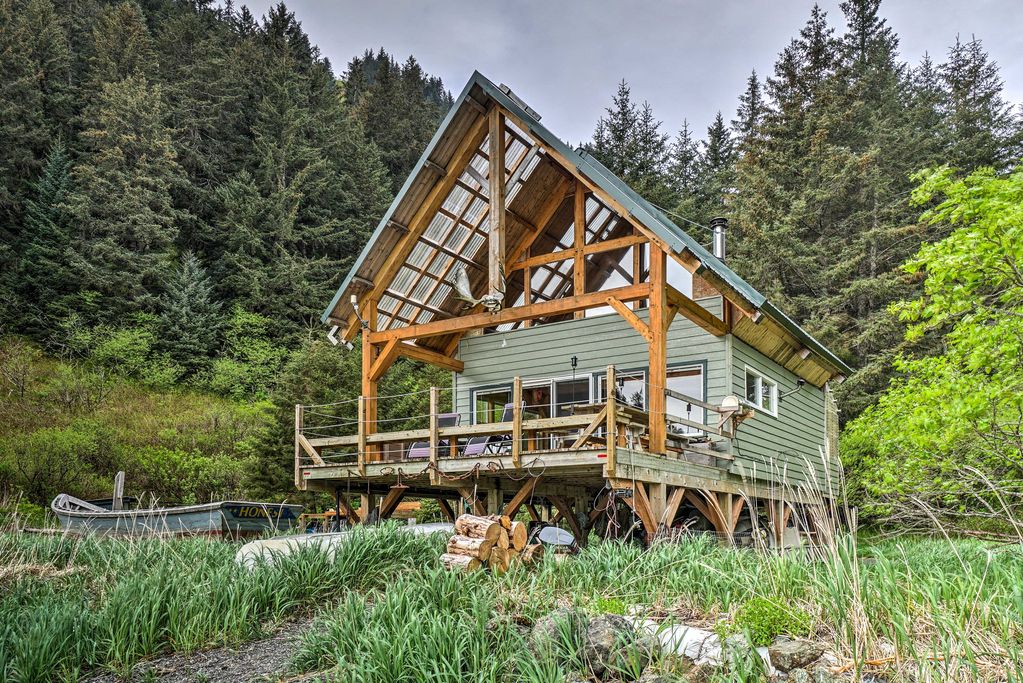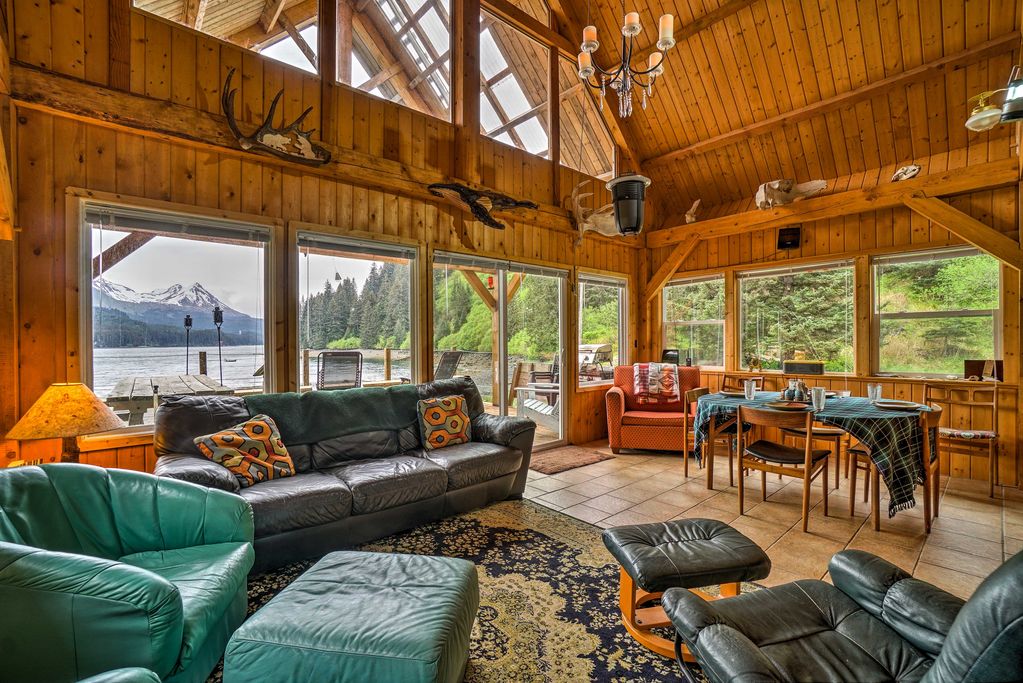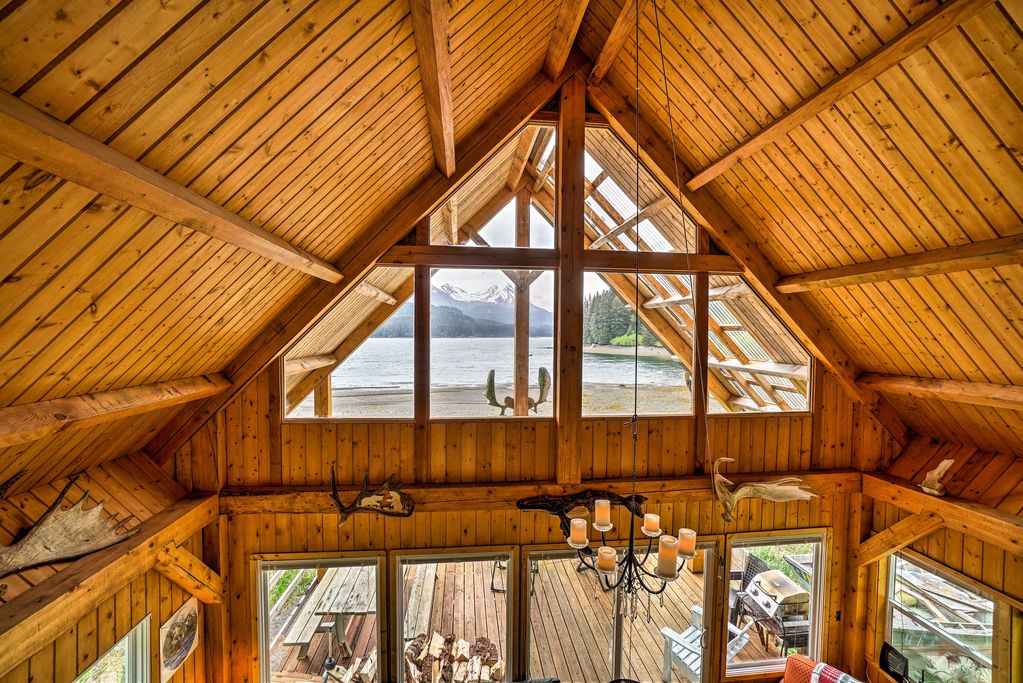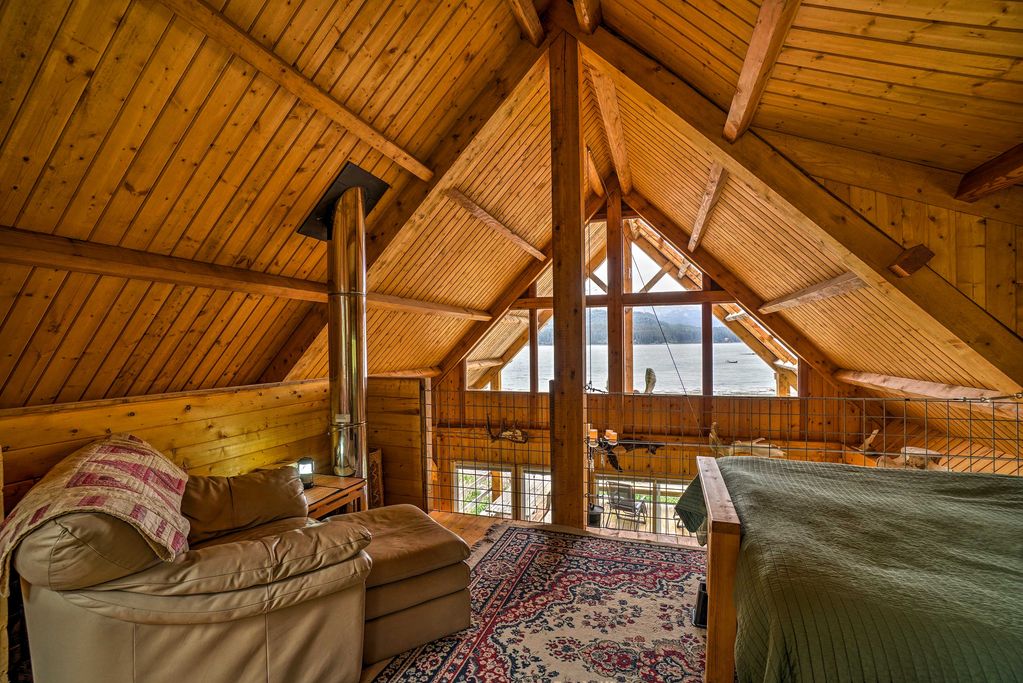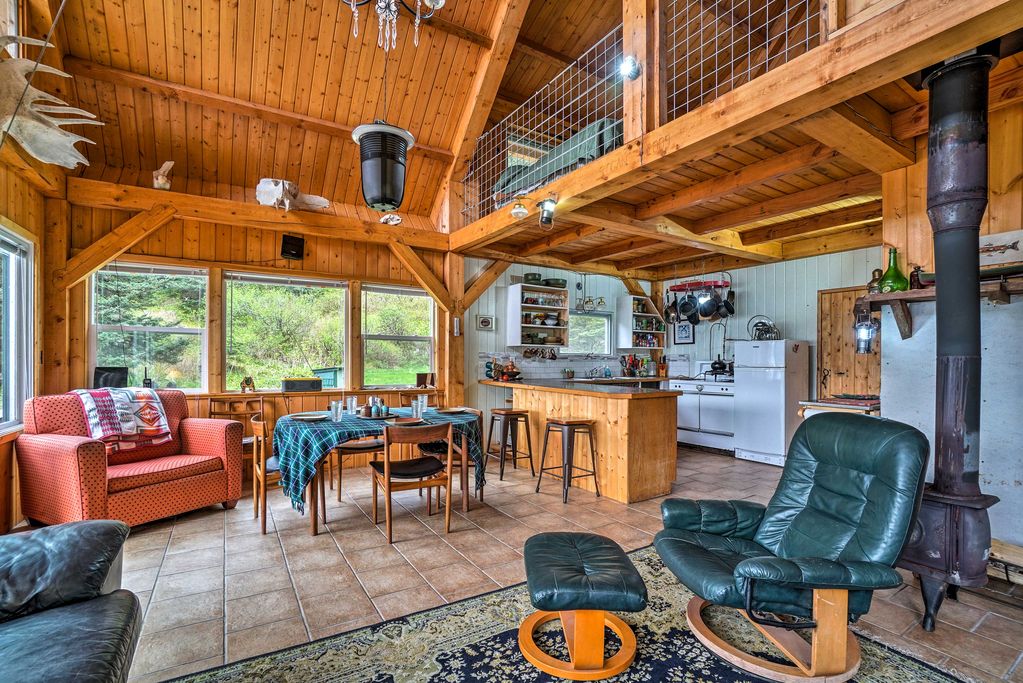 You'll know you're on a one-of-a-kind Alaskan adventure as soon as you hop aboard the private skiff on your way to the secluded property! Feel the fresh sea breeze blow through your hair as you cross the Seldovia Bay. Once you are in the back bay, you will understand why Scott calls this his cathedral! Though this property is located in the middle of the Alaskan wilderness, the owners provide 24/7 on-site services and daily guided adventure tours! They live in another cabin on the property.

The rustic decor and exposed wood beams inside this 1,040-square-foot timber frame cabin further add to your quintessential Alaskan getaway in 'The Last Frontier.' You'll be totally off the grid and eco-friendly during your stay at the cabin; this home is solar powered for charging your device batteries and offers LED bulbs (although with the long days of summer you probably will not need them). Cell service enhanced by a cell booster, but service varies depending on provider. (Version works best)

Though the abode has a rustic feel, it offers all of the comforts of home and beautiful Italian ceramic floors that provide a touch of elegance.

As you relax on the plush leather furniture in the living room, admire the views of the bay and mountains through the massive picture windows! On cooler evenings, toss a log in the wood-burning stove to get the chill out of the air. propane heat is provided for those who prefer not to burn firewood. Pack a few books in your suitcase, or read from the library, and get lost in a novel during this decompression time.

Step through the sliding glass doors in the living room out onto the covered deck. Morning, noon, or night, the deck will be your favorite place to spend your time. After a day of hiking or kayaking, relax on the covered deck; watching for bears, otters and eagles as you witness breathtaking Alaskan sunsets over Seldovia Bay. There is a nesting pair of eagles, within view of your living room window that you can watch, and see the fledglings being raised by their parents.

If you're lucky enough to reel in any fresh fish during the day, your hosts will cook them up on the gas grill or in the fully equipped kitchen! We obtain fresh locally caught red and silver salmon from the local set netters, if you are not a fisherman. The kitchen has plenty of counter space and all of the appliances you need to enjoy your hosts favorite recipes from the comfort of your home-away-from-home.

Once the sun sets, or at least gets lower in the horizon, head upstairs to the loft with a dormer, or stay in the living room for a peaceful night's rest. The loft offers a queen bed and a twin bed, and you'll find a comfortable pull out queen bed in the living room. This cabin is perfect for a couple, or four close friends or family. We have a double occupancy minimum, or up to four in the cabin. An extra glamping tree tent and treehouse deck for up to three people is available at a significant discount for larger parties. Call to discuss your needs for larger groups or events. Truly KBay's most unique and best valued full service lodge.

Another unique feature of the remote cabin that you won't find elsewhere is the indoor compost toilet that saves you from those late-night trips to the outhouse.
Exciting!!! A large fully enclosed and furnished treehouse is under construction and will be available mid June 2020. Check back on this page to follow progress and for an announcement of availability date.
CALL Scott at 907-982-2469 for information and direct booking discounts:
Call and book direct for discount pricing, save booking fees.
Call direct and ask about a 10% discount for parties of four or more, and individual veterans.
Don't miss out on our early bird booking special
Ask about discounts for pastors, ministers and church retreats!